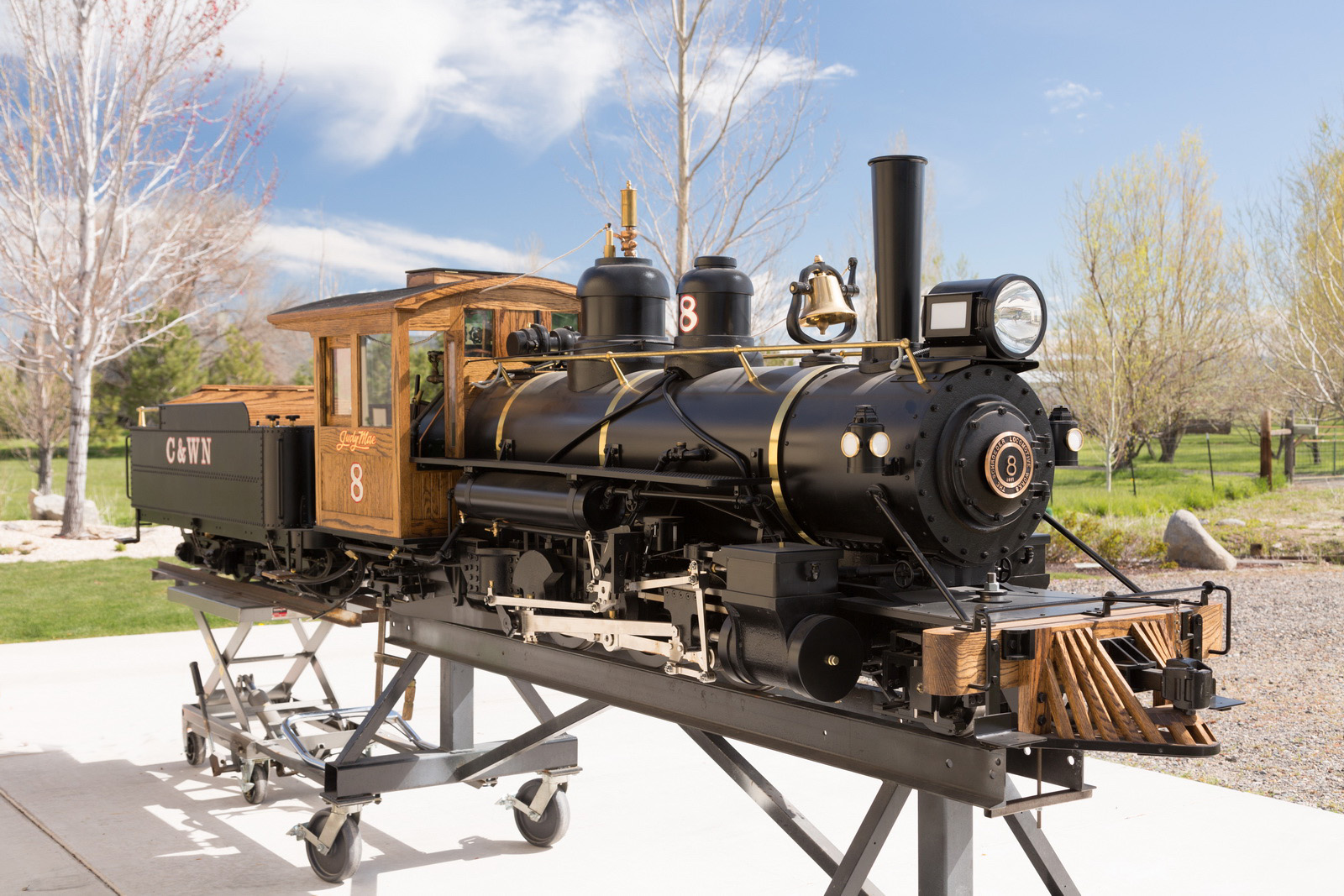 Builder Ken Schroeder next to his engine - this shows the massive size of this 3 3/4" scale locomotive.
click to enlarge
Ready to go BIG? These new 3 3/4" scale castings from Allen Models can be used to make a 2-6-2 Sandy River #24, a 2-4-4 Don Young Maxi-Lucky 7, or a freelance 3 3/4" scale locomotive of your choice. Most of the castings could be used to make a 12" inside frame locomotive or 15" gauge outside frame locomotive of your choice, using different drivers. Our castings are new castings made from new patterns by master model engineer Ken Schroeder and represent Allen Models' first foray into two foot narrow gauge.
The Don Young drawings for the Maxi-Lucky-7, originally published in Live Steam Magazine from January 1977 to March 1980 are now available from AJ Reeves Engineering in the UK. Regardless of wheel configuration, these drawings can be used for most of the machining except for the trailing truck, tender and some rear frame dimensions.
The book Two-Foot Cylopedia, Volume 2, SR & RL Engine No. 23, William H. Jensen, Jr. Flag Stop, 1977 was used by Ken Schroeder to build his engine and modify the trailing truck from the pilot truck. Copies are available for purchase here.
On the same site, plans for SRRL #23 are available in PDF format for $50.00.
Please click here for a current price list and totals, or browse and order from the part groups below. Note: Some sections have no castings and are not shown here, hence the missing section numbers.
| | |
| --- | --- |
| Driver Diameter: | 11" |
| Cylinder Bore: | 4" (reccomend 3 3/4" to use Ford Model T rings) |
| Cylinder Stroke: | 5" |
| Minimum Track Radius: | 65 feet |